Emmet Fox the Modern Mystic
Preview part of chapter one here
Emmet Fox: The Modern Mystic is a thought-provoking, informative, compelling, and -at times-controversial study of one of the most gifted New Thought teachers of our time. This book takes an in-depth look at the mystic consciousness of Dr. Fox - his clear vision and ability to heal; his predictive powers and brush with quantum events which transcended time and space; his unexplained knowledge of events that occurred centuries earlier; "The real is so wonderful." he said, "it will stagger the imagination." This book explores a deeper dimension of this great man than previously revealed and illumines a corner of his life known to only a few.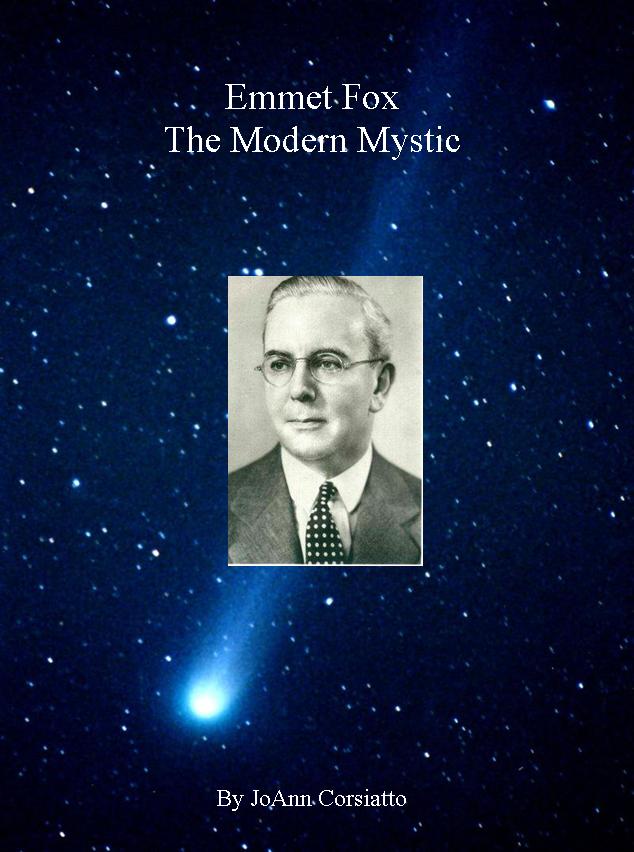 $14.00
U.S. shipping only
TEMPORARILY OUT OF STOCK
Un-Solicited Comments..........
Thank you for the book "Emmet Fox the Modern Mystic." It gave me a new realization of the good that is. The book made me ponder the vastness of life beyond the scope of our present understanding. This expanded look at the life and teachings of Emmet Fox, alerted me to the power of thought and our endless possibilities here and now. I found it to be an exceptional read. George, Alaska
Congratulations of your new book "Emmet Fox the Modern Mystic." It is well written, well researched and thought provoking. As I journeyed through the text I developed a sense about Emmet Fox making me realizing what an amazing gift he was to life, and to those of us who know of his work. It gave me a sense of hope and how open-ended life really is. I actually found myself reading the last two chapters more slowly, as I did not want to come to the end of the book. This is probably the best book I have read in awhile. Thank you for it. Andrew D, Yorkshire, England
Hello JoAnn Corsiatto,
I am so thrilled to have a copy of "Emmet Fox The Modern Mystic. It is highly insightful and one of my top reads this year. Actually I struggled to put it down. I loved how you weaved Dr. Fox's personal experiences with the principles of his teachings. Definitely a re-read for me. A Christmas gift for mom, for sure. Thank you for writing this book. Jennifer A, Texas
My sister gave me your new book, "Emmet Fox the Modern Mystic." Comment... A Masterpiece! Carlton, M Ontario, Canada
The new Emmet Fox book is captivating. There is so much wonderful information to digest. I am so pleased you did this work. I loved it from cover to cover. All the best. Dean M, New York
I just completed reading "Emmet Fox the Modern Mystic." This is a remarkable book indeed. The author reveals a deeper knowledge and understanding of the cosmic-spiritual Emmet, and his true oneness with God. Her writing is eloquent, detailed and quite intriguing. She literally captures an amazing part of his deep metaphysical concept of life. Her detailed illustrations of well-documented events are both inspiring and thought provoking. The ending is a power punch. Bravo, JoAnn Corsiatto, bravo! Dr. Vincent C, UK
You did a splendid job on the book. The cover is beautiful, the font is eminently readable, the text flows along smoothly and was interesting—even to me, a long-time Emmet Fox fan who owns all of his books. The anecdotes and personal glimpses you sprinkled throughout kept the narrative lively. In short, I loved the book. Judy, IL
I am so happy to share these words about this wonderful book. The details amazed me. Each chapter is chuck-full with information. I always loved Emmet Fox, this book makes me love him even more. Thank you for writing "Emmet Fox The Modern Mystic." I am about to re-read it. Juliette, LA
I read things in this book about Emmet Fox that I never knew. It is truly an inspiring account of many paranormal experiences he had, as well as a teaching about the universal principles he consistently taught. I definitely recommend it. Rev. Eleanor C, New York

Love this new book and want to order two more. This book has helped me to get more of an understanding of Principle and the power of our subconscious mind. I feel that I have more thoughts now as to how to apply that power toward my highest good. I was fascinated with Fox's emphasis on symbols and his knowing of things to come. I loved the story of Rabbi Nathan too! Great book! Don, Florida
I just completed the new book "Emmet Fox The Modern Mystic." I really enjoyed the read. So much information within those pages to think about. I believe I now have a clearer image of Emmet Fox, and the importance of his teachings. Fox's perceptive abilities were alluded to years ago, by his friend Hermon Wolhorn, in his book "Golden Keys to Successful Living", but this writing spells it out in detail, giving clear realization of his awakened consciousness. This is a very powerful book, with robust information. I thank you for it. Creig E, CT